Who am I?


NOTE: This page doesn't get updated often, I'm afraid. You can check out my new blog at MaggieMcFee.com if you'd like to see what I'm up to more recently.

Did you come looking for samples of comics, amigos?
Here's my entry for 2005's 24hr challenge: Jill Tomorrow - Girl of the Future
One day I'll get around to doing finishes on it, inking it and printing it at... some point.

And here's my entry from 2004: Dreaming Me
(and if you really dig 2004's, you can buy it here.)


I also have a collection of shorts and single pieces you can buy at CafePress here. It's also on Lulu

I'd also like to hawk some Aussie anthologies I contributed to.


We now return to "Who am I?" already in progress... (which keeps getting longer each time I edit it)

I am an artist, designer, programmer, video geek and complete nerd currently living in Boston, Massachusetts (Cambridge, to be exact). I recently returned to the US after living in Australia with my partner for 3 years (I'm still a Australian legal resident until 2010). She's now a legal US resident. (yay!) We're happy to be back and look forward to doing what we can to help shape the American political climate to make it so that people like us don't have to resort to such extreme measures just to stay together. And we're happy to be living in the first US state that allows same-sex marriage. I'm currently back in the systems administration game and I'm the senior sysadmin/IT Head for Harvard University's Physics department.

What else... I seemed to create a lot of websites. Some for myself, some for others. I'm a nerd on and off the clock and dabble in things like video/film, podcasting and content delivery (both at work and at home). I draw drew the webcomic Katie Galaxy (which has fallen by the roadside since taking up my new job), the upcoming comic Lense of Bast - The Strange Chronicles of Ava Giddy, some other occasional print comic stuff and sometimes I do freelance design and programming. I also run a Australian comics site/forum called The Pulp Faction and a related The Pulp Factory media site with howtos, podcasts, etc.. This is my way of giving back to the Aussie comics community which took me in as one of their own. I also work on some other sites that I can't talk about.

I obviously like robots and rockets and monkeys and pirates and art deco. I also enjoy history, particularly the 1920s - 1940s, and film. I have a soft spot for Sci-Fi and film noir. If you're familiar with my comics, you have probably guessed that already. I've always felt a strong desire to work somehow in film as well as produce independent comics. I write, mostly fiction and mostly moody sci-fi or suspense. I am a Macintosh fanatic and a Unix zealot. I've spent a great deal of my adult life working in the computing industry (I left a cushy job at Intel to move to Australia to be with my partner due to immigration laws) and I am most certainly a computerphile. (Fellow nerds: I have an SGI jones and own an O2 r5k, Indigo2 R10k, Indy, Origin 200, DS1100 and a couple of 1600SWs)

My favourite artists are (and I'm sure I'm leaving someone out) Mike Kaluta, Jaime Hernandez, Bernie Wrightson, Alex Raymond, Maxfield Parrish, Howard Chaykin, Winsor McCay, Alex Raymond, Milt Caniff, Trina Robbins, Bill Watterson, Berke Breathed, Marie Severin, Alex Raymond, Joe Kubert, Dave Stevens and Adam Hughes. Oh, and Alex Raymond. ;)

I don't read webcomics as much as I'd like, but some all-time faves include Penny-Arcade, Wigu, Mekka Blue, Nowhere Girl, Goats, Sinfest, Devil's Panties, Wapsi Square, Tom the Dancing Bug. I also religiously watch Weebl and Bob, Homestarrunner and Foamy

Artistic contemporaries who are currently a direct influence on me (I'm pretty well aware of who has my attention or is kicking me in the butt to do [something] better) are: Justine Shaw, Doug Holgate, Trudy Cooper , Tatsuya Ishida, John Cassaday, Chris Wahl, Mike Kaluta and Howard Chaykin. I dearly hope you will Google all of them. :)

This is where the magic happens... or not, increasingly.

What am I working on?



A Girls With Slingshots homage.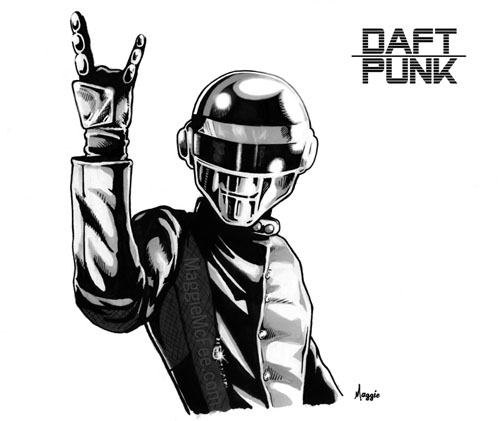 Bangalter of Daft Punk




Inked version Final pencils Original sketch

Previous Entries:
Sketches 12/04 | Cover for KG: Line of FIre |A page for Pucked |Robot from Pucked |24 Hr Comic cover |24 Hr (color) |Dreads | The Bride | The Bride pencils) | Katie T-Shirt | Medusa | Katie Galaxy: Leggs Wallpaper | Katie poster (pencils) | Katie poster (inked)
Katie Galaxy Wallpaper

Contents and all art work ©Maggie McFee, unless otherwise noted, and may not be used in any way without the owner's express permission. This includes, but is not limited to use on outside web sites or promotional material. If you want to use something, ask. Stealing is bad for your karma and worse on my wallet. :)